The Language & Communication research group
Welcome to the website of the Language & Communication research group, one of the six research groups within the Utrecht Institute of Linguistics OTS.
Our group aims to understand how language is used to get things done in the real world, as well as how such actual, goal-oriented language use can be made more effective, particularly in the communication between institutions and individuals.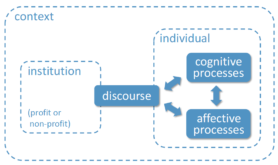 We analyze the nature of the texts or conversations involved, the cognitive and affective processes they elicit in the language user, and the resulting representations and/or behavior.
Group members use a wide range of methods from linguistics, psychology and cognitive (neuro)science, and conduct their research in the laboratory as well as in real-life communicative arena's, the latter often in collaboration with societal partners.
Note: This website is an addition and extension to our webpage on the Utrecht University website.
The website you're visiting now is the one we can most easily edit and expand ourselves, so best start here… If you see anything odd (e.g. a dead link), please contact Karin Fikkers.