News
Roos Beerkens and Jan ten Thije published a book on intercultural communication
[September 8, 2020]

Roos Beerkens and Jan Ten Thije have published a book titled 'Enhancing Intercultural Communication in Organizations Insights from Project Advisers'. This book provides a qualitative analysis of the process of consultancy, to prove how intercultural communication can solve issues rising from multiculturalism in organizations and policymaking.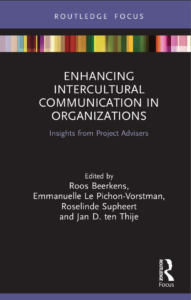 Experts in intercultural consultancy examine 12 different cases from real situations, focusing on interviews with clients and the way advice is presented and discussed with them, and on collected data and the process by which it is gathered. The book proves how the mechanisms of intercultural communication can be used to foster respectful relationships between people of different cultural and linguistic backgrounds and contribute to the success of the project or organization in question
This book will be a key resource for scholars and students involved in intercultural communication, management, and consultancy, as well as professionals that are confronted in their work with diversity and would like to know more about intercultural consultancy.
Reference:
Beerkens, R., Le Pichon-Vorstman, E., Supheert, R., & Ten Thije, J. (Eds.). (2020). Enhancing Intercultural Communication in Organizations: Insights from Project Advisers. Routledge. https://doi-org.proxy.library.uu.nl/10.4324/9781003006794