News
Jan ten Thije delivers inaugural lecture
[January 31, 2020]

On January 31, 2020, Prof. Jan D. ten Thije (Languages, Literature and Communication) gave his inaugural lecture as faculty professor of Intercultural Communication, entitled 'Interculturele Communicatie als Mediation'.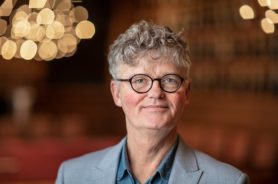 By Intercultural Communication we generally mean communication between people with different linguistic and cultural backgrounds. This leads to misunderstandings. Through more knowledge about other languages ​​and cultures, mutual understanding is possible and misunderstandings can be prevented. In his inaugural lecture, Ten Thije argued that this presentation is too simple.
Misunderstandings
Misunderstandings are not only caused by cultural differences, institutional factors also have an important impact. Misunderstandings should be considered as an interplay of linguistic, cognitive, social, political and cultural factors. Moreover, misunderstanding is not the quintessence of intercultural communication. In fact, intercultural communication can also be very successful, while it is structured in a different way than non-intercultural communication.
The crucial question with regard to intercultural communication concerns: what to do if you do not understand what is going on in the given situation?
The linguistic anthropologist Michael Agar (1994) offers four possibilities in this regard:
– Wait until the situation passes automatically;
– Do as the natives do, and adapt to the other;
– Blame the other; often the beginning of discrimination and racism;
– Start to wonder. This process of wondering starts reflection on one's own actions and those of others.
Agar determines this last option a rich point. The rich point is a central element in the non-essentialist view of intercultural communication.
In his inaugural lecture, Ten Thije explained five approaches that contribute to this non–essentialist view. These are: the contrastive approach; the multilingualism approach; the interaction approach; the cultural representation approach; and the intercultural competence approach.
Mediation
The term mediation stands for a so-called third party that can mediate in intercultural communication. With the help of this concept interesting interfaces between the different approaches will be discussed. One of the conclusions will be that interculturally competent people must be able to act as mediators for themselves.
International symposium on mediation
On the occasion of the inaugural lecture by Jan D. ten Thije, there was also an international symposium (pdf) in the context of the Dutch Annual Linguistics Day ('De Grote Taaldag') on January 31 from 11 am to 3 pm. Recent intercultural research in the field of intercultural mediation was presented, with applications in media analysis; when interpreting in healthcare; in intercultural consultancy; in language policy on lingua receptiva in the Netherlands and Flanders and in intercultural training.
Source: https://www.uu.nl/en/events/inaugural-lecture-jan-ten-thije-interculturele-communicatie-als-mediation